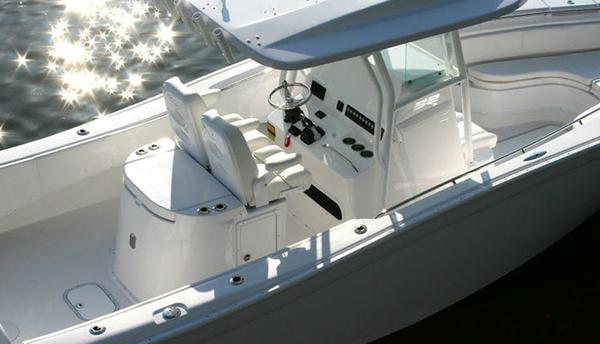 We are proud to be West Central Florida's source for Cape Horn and Cape Bay Boats. Cape Horn's mission has always been to build affordable and functional boats that are stronger with higher quality than any other boat in its class. This is why Cape Horn boats are frequently purchased by the U.S. Coast Guard, Marine Patrols, rental operators, charter captains, and industrial users.
Cape Horn Boats were born from the need for a fishing boat that was powerful enough for tournaments yet comfortable enough for family outings. Thirty years of refinement and innovation and a no-nonsense approach to offshore fishing has made Cape Horn the preeminent fishing boat in Florida.
TRADITION - FROM PASSION BREEDS TRADITION
Cape Horn Boats are the preeminent fishing boat company in Florida. They are built with thirty years of refinement and innovation and a no-nonsense approach to offshore fishing.
CONSTRUCTION - NONE BUILT STRONGER
No one knows fishing quite like we do, and it shows. From bow to stern, every detail in each Cape Horn boat is engineered and tournament-tested for one purpose–to fish.
Our unsinkable boats boast the most rigid type of composite construction, providing an ease of ownership and peace of mind that allows you to focus on the task at hand.
QUALITY - MADE BY FISHERMEN FOR FISHERMEN
We value quality over everything, from painstakingly hand-building every aspect in-house to outfitting each boat with only the best materials available. Our line-up of vessels is continuously recognized for industry-leading dependability and customer satisfaction, a feat that can only be achieved by a company committed to producing the finest boats in the world.
WHY CAPE HORN? - THE FIRST TIME YOU FISH IT, YOU WILL UNDERSTAND.
Whether you are behind the wheel or manning the rod, the Cape Horn brings a no-nonsense approach to offshore fishing. Huge floor plans allow an uncluttered workstation when the bite is on. From bow to stern every detail is engineered and tournament tested for one purpose- to fish.
Most of the offshore models are equipped with two enormous live wells and possibly the largest fully insulated fish box available. At 7' of length the fish box will challenge you to find a game fish that won't fit—good luck. With a dry ride and soft entry, the newly designed Cape Horns are forging a new legacy. One that just may be the most rugged and reliable center console you will ever find.
THE ONLY THING THAT MATTERS 80 MILES OFFSHORE IS BENEATH YOUR FEET.
FOAM-FILLED BULLETPROOF HULLS – We talk a lot about the strength, wood-free design and the thickness of our hulls. Another key factor in our legendary ride is pressure filling every inch of empty space in the hull with closed cell foam. The foam quiets the ride, adds stiffness to the hull and makes every Cape Horn absolutely unsinkable. How many boats can make that claim? 
SOFT ENTRY BOW – Another Cape Horn first. After 30 years of hands-on, real life testing and thousands of miles of running into heavy seas, we found exactly what it takes for the softest entry and driest ride. A proprietary designed cutwater helps smooth out the bumps while the reverse chines direct any spray down and away from the hull. Increased speed and fuel economy are a result. 
 With a unique construction process, Cape Horn is unlike any other. Our sculpted process prevents us from ever mass producing these boats, but mass production is not part of our agenda. This process is slow and contributes to our limited production but guarantees an all-composite boat that will outlast its owner. 
FAST DRAINING COCKPITS – Self-bailing hulls help water exit quickly by design with oversized scuppers. Say good-bye to wet feet the others provide while also being easier to clean after a trip to the islands.
ONE LOOK INSIDE AND YOU CAN TELL THESE BOATS ARE DIFFERENT.
EASY-CLEAN GEL COATED DECKS – Fishing and boating are supposed to be enjoyable. Making the decks with a gel-coated finish for easy clean up just seemed like another Cape Horn good idea. After all, who wants to wax the floor on their boat when you can just rinse it out? 
COMMERCIAL RUB RAIL – Yes, Cape Horn boats have beautiful lines, ride dry and will get you to your favorite destination quickly. But they're also meant to be used and are built to take a pounding. From the bulletproof hull to the stainless nose guard to the commercial rub rail that keeps you off the dock, you immediately see that we build Cape Horns based on real experience by real boaters. 
YACHT-GRADE HARDWARE – When you own a boat meant to travel hundreds of miles offshore and return in a single day, you expect your equipment to be as durable as you are. Yacht- grade stainless steel hardware, oversized hinges, and cleats with room to spare make a long-lasting difference. 
TINNED WIRING – All Cape Horn wiring is tinned and jacketed in an automotive style harness to withstand the elements and provide a lifetime of service. 
TOUCH-TO-PUSH SS SWITCHES – Our panels are hand built to control all of your boats functions. Water sealed, stainless push switches with LED indicators keep the dash well organized and easy to access. 
MODERN TECHNOLOGY – Want dual 12-inch displays and digital engine readouts? No problem. Maybe some underwater lighting? Want to add a VHF, sound system and iPod controller? We've got you covered there too. 
DIGITAL THROTTLES – Fly-by-wire throttles are easy on the gears and ensure a smooth, steady acceleration. This modern technology also helps with fuel economy. All Cape Horn models can be outfitted for full digital controls. 
We could go on, but by now you get the idea that from bow to stern, every detail is time tested and proven offshore. Combine that with a 30-year legacy of continual innovation, unsurpassed commitment to technology and customer service and the question isn't why Cape Horn, but which Cape Horn.
NONE BUILT STRONGER™
The expert boat builders at Cape Horn have spent the past 30 years refining and perfecting boat construction. From designing durable and functional fishing boats to the final inspection, meticulous attention to detail and expert craftsmanship go into each step to ensure our boats are the strongest in the industry.